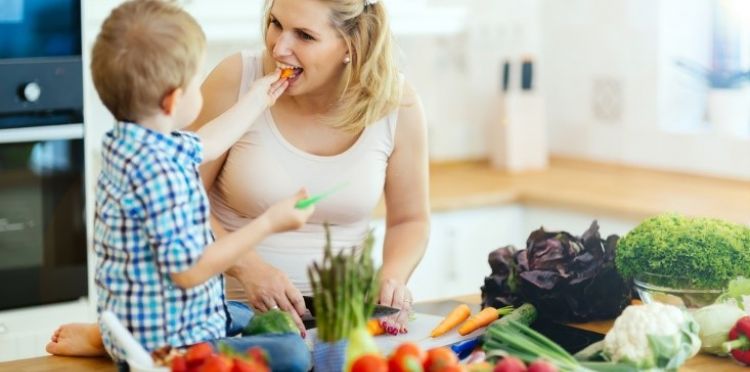 What is the best way to teach? By example! Children who develop healthy habits at a young age have a higher chance of carrying them over into adulthood. Try these tips to keep your family healthy and happy.
Plan Heart Healthy Meals and Snacks: We understand, having a family can be a busy and stressful job. Between homework, soccer games, or dance class, it can be hard to make sure everyone is fed, let alone making sure the food is healthy. That is why planning ahead can reduce stress and prevent moments where a fast-food stop seems like a quick and easy option. You'll be surprised at how taking a bit of time on Sunday to pre-cook meals, look up quick and easy recipes, and prep healthy snacks can make your weekday rush easier and make you feel better about what your family is eating. Stock your fridge with pre-cut fruit and veggies, sort out dried fruit and nuts into easy-to-grab baggies in the pantry, and keep reusable water bottles in an easy-to-find area to quickly fill and go.
Make a Point to Keep Family Activities Active: Family time in the evenings and on weekends is important. While it may be fun to catch up on the family's favorite TV show, don't make that your only family time activity. After everyone is home from school and work, try to plan a family walk in the evenings. Take the dog to the park or help the kids practice their favorite sport. Camping or hiking is also a great activity for all ages, that encourages a temporary disconnect from technology to give your brain and body a break. If you teach your children early, it can develop the mentality that exercising and being outdoors is fun. If you are trying to break your family of unhealthy habits, don't be discouraged! Take baby steps and celebrate the small victories.
Get Everyone Involved: If you are the one making all the decisions and trying to drag your family off the couch, you may face some resistance. Don't make it a chore, give everyone a role so they feel important and more motivated to participate! Give each member a chance to pick dinner and then have everyone take part in making the meal. Make household and outdoor chores a game or give rewards for healthy activities. Make it fun for everyone and before you know it everyone will value healthy choices on their own.
Making a change for the better can be a challenge, but if you do it right, you can have fun along the way and make life better for everyone!
Sources: