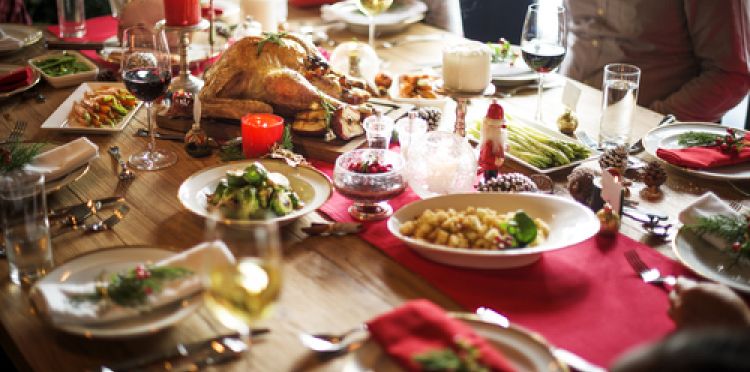 As the holidays approach, many of us prepare for the onslaught of delicious, but heavy and unhealthy, foods that we wait all year for. Instead of preparing for a heavy meal and dealing with the consequences, why not try and make some of the typical foods you prepare a bit healthier?
Ditch the Heavy Cream:
A staple ingredient in many of our favorite comfort foods is heavy cream. It is creamy goodness, but also fattening. One way to lessen the calorie intake is by making your own cream from skim milk and butter. If you use other creamy ingredients such as sour cream or mayonnaise, non-fat greek yogurt can make an excellent substitute! You can switch it out entirely or do a half and half mixture.
Switch Out the Starch:
Mashed potatoes are so delightful, but they are very heavy and starchy. A heavy dollop of butter or sour cream doesn't help either. Cauliflower is becoming the new starch. You can use cauliflower to replace mashed potatoes, rice, or even breadsticks! Trick yourself into thinking you are indulging with a lighter version that is just as delicious.
Better Than Butter:
Butter makes everything delicious, but also unhealthy. Dollops and sticks of butter in your dishes can really add up. A good way to manage this is by using less than what is called for, often you can skimp without making a huge difference in texture or flavor. Another substitute with a heart healthier benefit is olive oil.
Avoid the Alcohol:
Many of the calories consumed during the holidays come from sugary mixed drinks, beer, and wine. A glass here and there is fine, but some of the heaviest drinking is done during this time of year. You can avoid alcohol altogether or choose lighter drinks such as a wine spritzer or use real fruit juice for punches or mixed drinks.
You don't have to sacrifice everything this holiday season, but following these tips can help you to feel a little lighter and motivated to meet those healthy New Year's Resolutions!
Sources: